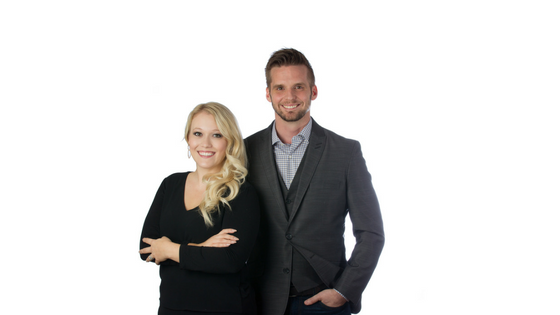 We aren't salespeople.
We're the professionals walking beside you during the purchase or sell of a home. We offer advice and a shoulder. This is probably the most complex transaction you will ever be involved in and we don't take our responsibility lightly.
And, we join you in celebrating your first day home.
We're not in it for a deal. We're in it to make lifelong clients who become lifelong friends.
There will be ups and downs, and obstacles will stand between you and the next place you call home. But, we aren't scared of tough situations. We've been through worse.
So, we could tell you how we're "on a mission to help each client achieve their dream of home ownership". We could say that our "unwavering sense of dedication, work ethic, and integrity have quickly earned us a reputation as self-driven professional real estate agents". And, all of that would be true. It might even make you feel warm and fuzzy inside. But, what if, instead of trying to sell ourselves to you, we let you see for yourself? What if choosing us became a foregone conclusion because of the value we showed you – before we ever spoke to one another?
Everywhere you find us online you'll find information. Information that answers questions about real estate. Information that prepares you for the phases of a real estate transaction. Information that calms fears and creates excitement about possibilities.
Watch as we drive through your favorite neighborhoods and then read about our favorite spots. Read about topics you never knew existed and explore this area that we've called home. Middle Tennessee.
And, it's all free. Why? Because life is about serving. It's about serving God, it's about serving family, and it's about serving you.
So, that's our mission statement. Serving others. Not as a slogan. Not as a sales tactic. As a rule.
A rule we live by.
Samantha has a passion for truly living life to the fullest and helping others do the same. She loves being outdoors, serving at her church, almost any form of art, and to travel and experience new places and cultures. Her greatest passion, however, is her family. She is forever grateful for Tommy and their three daughters.
When Tommy isn't spending time with Samantha and their three daughters, you can find him serving at their church or in his wood shop. He also plays, sings, writes, and records music. He received a Bachelor's degree in Computer Science with a minor in Music from the University of Central Oklahoma.
If you're looking to buy or sell a home in Spring Hill, Nashville, Brentwood, Franklin, Thompsons Station, Murfreesboro, or any other location in middle Tennessee, contact us today!